No black friday but pink thursday!
Black Friday, translated to Black Friday, has been blown over from America for a few years now.
The special offers that many people have saved for a long time.
I don't care much for it myself.
Black is so black, and I don't really like that color myself.
My clients asked if I would also participate in this global day of action.
I myself am more into colors and therefore have my own promotion than the annual Black Friday.
Rose, that color is in my logo, that is also the color of love.
Love, intimacy and passion, that's what it's all about in my practice.
Personally, I think there should be more love and high energy in the world.
That's why you get a 20% discount on the services I offer.

Intimacy coaching (can also be done online ..) More about coaching see …

Pairing session

Cuddle Session

Tantra or Touch Massage

Tantra weekend

VIP intensive

Workshops
You can now book all these services with a discount of 20%.
You can do this by following
or contact us via Whatsapp  +34 657 939 635.
This Pink Thursday promotion is valid from 25 to 28 November 2021.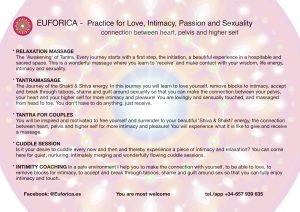 Click this link for a PDF version…
If you have any questions, feel free to contact me!
Do you want to be kept informed.. then sign up for the newsletter!
I wish you a nice weekend and who knows, see you soon.
Love and hug
Shakti Alexandra