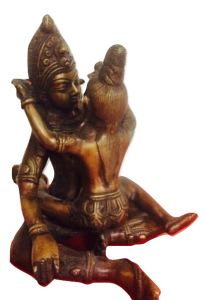 This Tantra five days is a fragile journey
This tantra five days is about exposing yourself on all layers and coming home within yourself. A vulnerable journey in yourself to be able to investigate and experience what it takes for you to live your true essence, free from masks (to yourself and in contact with the other) and free from old patterns and beliefs. Which sometimes are not even yours, but which you have internalized as a child, which you have mastered and which you can now let go. To transform into who you really are.
Let yourself be included in concrete exercises in this insanely fragile and beautiful

research area in which the (physical) contact is slowly built up, so that there is enough space to dare to really feel what may arise in you. Central to this is the sacred marriage between the feminine and masculine energy in yourself and the connection between heart and pelvis.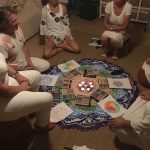 Specifically, we use emotional bodywork, tantric exercises to get in touch with yourself and the other, meditations, (family) constellations, massages (where you determine where your boundary is in nudity), role plays, shamanic rituals, sharing circles and dance .
Due to the depth of the process work, there is room for 6 participants and strive for an equal number of men and women and a good distribution between couples and singles.
We work in Dutch and, if necessary, in English.
Facilitator: Alexandra Langeveld 
I am Alexandra, I am a polyenergetic coach, therapist and holistic healer and help people connect with themselves, enable them to love themselves, remove blocks to intimacy, remove taboos, shame and guilt around sex accept and break through.
I inspire and motivate men and women to free themselves and surrender to their beautiful 'Shiva & Shakti' energy, the connection between their heart, pelvis and higher self for more intimacy and pleasure!
Tantra has changed my life, I have been able to experience the dark and light sides of sexuality, it was a hard but ultimately a heavenly journey.I have extensive experience in working with individual customers and couples and in giving (multi-day) workshops to groups in the field of personal development, tantra and dance.
Location
This five-day Tantra retreat has its bed on the private, 8000 m2 plot of  "Natural Paradise for Happiness & Healing"
This beautiful place in nature is located in Benissa (Alicante, Costa Blanca, Spain), in the middle of the campo where olive, avocado and orange trees grow lushly and with a view of the mountain Bernia.
The site is basic, mostly ecological and has a communal area, a swimming pool, many terraces and enough places to retreat for peace and to be alone.
Wifi is available, it is important to use this as little as possible during this Tantra retreat so as not to disturb your inner process of awareness too much.
DATA
This five-day Tantra Retreat starts on Thursday October 8 at 6:00 PM with an evening program (welcome from 4:00 PM) and ends on Monday October 12 at 4:00 PM.
(if you cannot go on this date, or if you want to go private as a couple, ask about the possibilities)
PRICES
The price is € 588 per participant (excl. € 100 for food and drinks).
The price of € 588 includes:
the entire program, consisting of 3 workshops / sessions per day
4 nights in a 2 to 3 person furnished caravan or room
Other accommodation facilities are possible in consultation with Alexandra (if you live in the Costa Blanca and want to sleep at home, this is negotiable).
There is also an option to sleep at a B&B in the region, ask for the possibilities
*** If you book and pay before July 28, 2020, the price will be € 540 ***
Not included:
food and drink. The costs are € 100 and are paid upon arrival.
travel costs, the costs of the outward and return journey. Information about transfer from airport to Marnes Lliber can be obtained from Alexandra.
individual healing and / or coaching / therapy sessions.
MEALS
Delicious vegetarian food will be cooked. There are 2 main meals a day, a nutritious brunch and a healthy dinner, and fruit / snacks and light breakfasts are available for those who want to eat something before brunch.
Sign up for the tantra five days or more information?
To sign up, send an email to Alexandra. For more information you are always welcome to call. The contact details are:
Alexandra:
FAC EBOOK: Euforica
MEETUP
E: Info@euforica.nl or  CONTACT
t el. +34 657 939 635
Vacation and silence afterwards
If you want to be in peace and quiet after this five-day Tantra retreat or enjoy the atmosphere and your own inner process, it is possible to stay a few nights longer in one of the caravans.
Lliber is also a very nice environment to stick to for a few days of vacation. You can enjoy walking and 10 to 15 kilometers away you have beautiful sandy beaches.
There are also beautiful places near Lliber such as Javea, Moraira, Xalon and Calpe. They are definitely worth a visit. If you would like this, you can consult with Alexandra for accommodation options in the area.
Testimonials Tantra multi-days
I would like to share my experience of Alexandra's 5 day tantra retreat in May in Pedreguer.
The retreat brought me a lot closer to myself. I learned to indicate MY limits and met my deepest fears, my heart opened and started accepting situations and forgiving people. I received a lot of great tips about nutrition, meditation, etc. Alexandra also cooked delicious, fresh meals. I was coached by Alexandra and felt supported and safe in the beautiful surroundings.
The area was very beautiful, nice and quiet in nature at the feet of a mountain. The view is very special. I am grateful that I took this opportunity.
It brought me a lot and learned a lot what I definitely take into my private life.
I advise you to take part in a 5 day retreat here!
I'll definitely be back soon!
Big hug dear Alexandra and thanks again  

Mihaly

  

I experienced the Tantra retreat as a great way to investigate and strengthen my intimacy and life force. Contact with myself, letting go of old pains and literally freeing what no longer serves me.
A wonderful weekend to experience the male-female connection in yourself and to the other person at body level.
During a Tantra retreat you will come into full contact with your own body in a beautiful environment. By entering into contact with the other from there, beautiful encounters are created.
For me, the Tantra days have been healing. The safe atmosphere made it come home to myself. There I met the playful, happy child. Delicious. What a connection, what a wealth.