Healing through the anus, also called the Prostate Massage
The word anus and prostate can immediately cause a reaction. It is often a neglected topic when it is just so important. Especially for you as a man, around the age of fifty, you can suffer from the prostate. The solution is a prostate massage or -milking.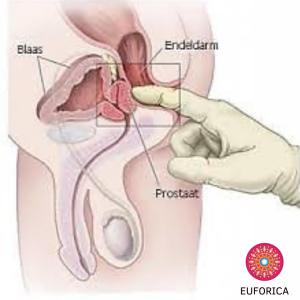 SHAME; the anus can be dirty. This is often told from a child, this is dirty.
LETTING GO; there can be a lot of control at the anus, it can also be rigid.
Problems prostate
Do you often urinate at night?

Is your urine stream weak?

Are you dripping?
These are signs of benign prostate enlargement. As many as 50 percent of men over the age of 50 experience this aging phenomenon. Difficulty starting urination, not being able to empty the bladder properly, having to urinate again within two hours and difficulty holding the urine are also common complaints.
Do you know that one in six men in the Netherlands is diagnosed with prostate cancer?
Unfortunately, more and more young men are also being diagnosed with prostate cancer.
According to medical professionals:
this is due to poor nutritional

intake an increase in processed foods

the pollution of the environment, which, of course, affects drinking water as well as air and soil quality.
The good news is that studies show that a prostate massage helps reduce the risks. In addition, people who have tried it say they see an increase in libido, sexual performance and erotic satisfaction. The other name is also Prostate Milking. 
HEALING THROUGH ANUS, the prostate massage (prostate milking)
The male prostate is also referred to as the P-spot because the pleasurable sensations upon stimulation are similar to those of the G-spot in a female.
It may sound strange to you, the anus can be a special place during sex.

The anus is part of the pelvic floor where the genitals are also located. During the male orgasm, the anus contracts. In addition, the anus contains many nerve endings so touch can feel very intense. Stimulation of only the sphincter muscle can already provide an intense experience during sex.
However, prostate massage goes a little deeper, literally. The prostate is located in the anus, about 2 to 2.5 centimeters in the rectum and can be felt by inserting a finger through the anus. It is a small bump the size of a walnut and a pleasant sensation can be felt when you press against it.

What does the prostate do?
The prostate is a gland where the fluid for sperm is produced. By stimulating this gland, it is stimulated to take action. It is therefore even possible to induce an orgasm with just prostate massage with all the feelings that normally come with it. In fact, the feeling that builds up during a prostate massage can become much more intense than during a normal orgasm. It is therefore fun to experiment with it, because as a man you can experience an extremely intense orgasm in this way. Were you already thinking about this?
The benefits of a prostate massage
The prostate is stimulated externally through various pressure points against the perineum as well as internally through the rectum. Stimulation through the rectum is direct, intensive and produces better results. The Prostate massage simulates a better blood flow in this area. In some cases, this massage can be very helpful in treating ejaculation problems and erectile dysfunction (ED). Since the penis is in close contact with this gland, stimulation can therefore have a beneficial effect on both parts of the body.
Do you have a healthy prostate?
Then I advise you to apply a prostate massage at least once a month.
When you have prostate problems?
Then I will touch you, in consultation with the general practitioner or medical specialist, to increase this to once a week.
I understand very well that questions arise before you actually want to register for a massage. You can always email or call me for a no-obligation introductory meeting.
You are most welcome!